Whether you are an expect photographer or a passionate hobbyist. There is always the matter of equipment. You will need to store it well for it to last long and not give you many problems. Digital cameras and film equipment are quite delicate in nature. This means they can be damaged by elements as simple as moisture, dust and sunlight.
Whether you are using them or not, it is important to store you equipment properly.
Preparing your Cameras for storage
There is no problem living your batteries and your memory card on. However if you don't intend on using your camera equipment in a long time the best thing you could do is remove the battery and memory card. This will avoid the battery from licking and the memory card from being damaged. This is one common error that causes cameras to be damaged.
Removing lenses and lens filters
Its important that when storing your camera for a long period of time you have to remove lenses and lens filters. Before you store them away you have to clean them so that you remove the dust. Once the cleaning process is over, you can go ahead and place the caps on each end. The best place to put a lens is on the lens mouth.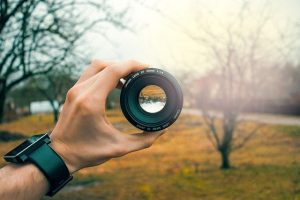 Packaging and cleaning 
This is by far the most important part of the storage process. To remove any dust and moisture use  cotton, a blower, or any fluffy material.
To prevent the equipment from scratching each other you will have to put lenses in lens pouches. You can also wrap the cameras in bubble wraps before placing them in a sturdy container. You can also insert a few silica gel sachets. This are actually good at absorbing moisture.